Spectrophotometer
High accuracy

High quality grating ensure high precision.
Connectivity with peripherals

Possible to connect with PC and a printer.
Scanning with PC

Scanning can be performed with a PC.
Excellent value

High performance and affordability are combined.
Specifications
Wavelength range
190 nm to 1000 nm
Wavelength Width
5 nm
Wavelength accuracy
± 1 nm
Wavelength repeatability
± 0.5 nm
Optical system
single beam, grating system, auto-scanning(using PC)
Stray radiant energy
< 0.1%T (at 220nm and 360nm)
Display
128 x 64 LCD display
Photometric range
-0.3 to 3 ABS
0.0 to 200 %T
0.0 to 9999 C (0 - 9999F)
Auto Zero
Equipped
Drift
≦ 0.002 A/hour after warm up
Detector
High sensitivity silicon photocell
Light source
Halogen lamp, Deuterium lamp
Standard Sample holder
4 position, 10 mm x 10 mm Square cuvette
Printer interface
Parallel port
Data output
USB
Power Requirement
220 VAC, 50/60 Hz
Dimensions
466 (W) x 395 (D) x 200 (H) mm (main body)
Weight
Net 15.5 kg (main body)
Standard Accessories
Square glass cuvette
4 pcs
Square quartz cuvette
2 pcs
Power cord
1 pc
Application software CD-ROM
1 set
(CD-Rom, USB key, USB Cable, Software manual)
Fuse (3A)
1 pc
Vinyl dust cover
1 pc
Operation manual
1 copy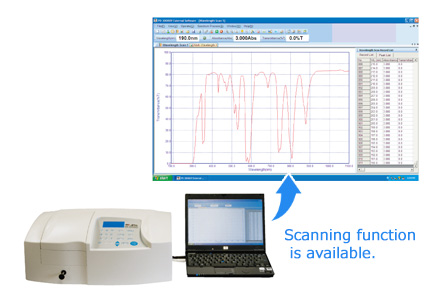 *Specifications and appearance are subject to change without notice.